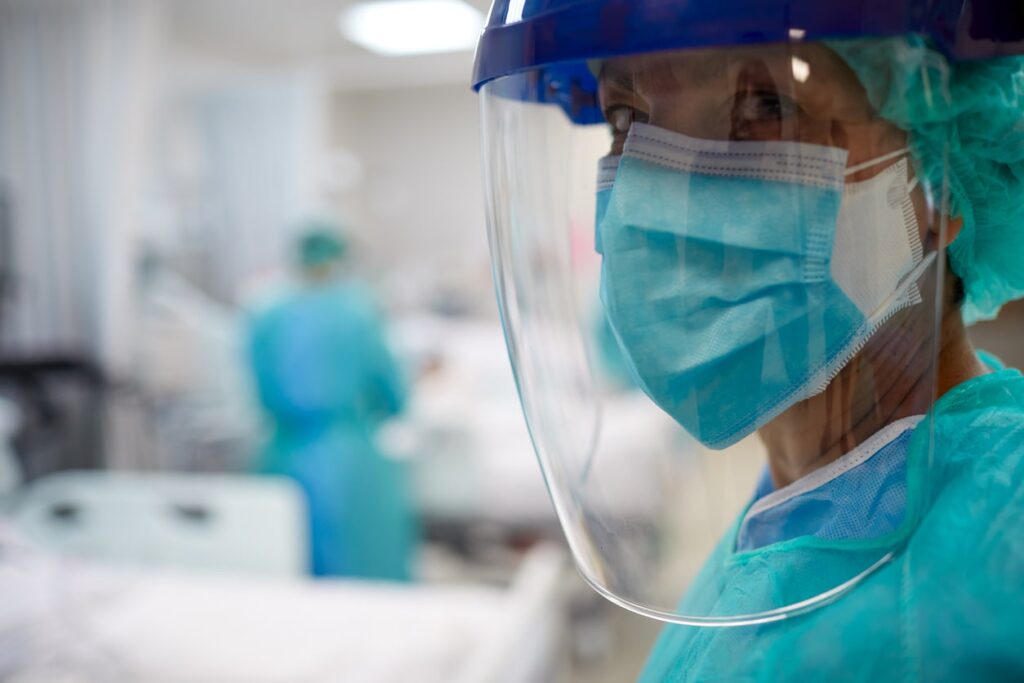 NHS staff are doing a phenomenal job supporting us all through this crazy time, but Covid-19 hasn't just been hard on humans – it's taking its toll on the environment too.
The uptake of personal protective equipment (​PPE) has of course been beyond our wildest imagining. It's critical for anyone in close contact with patients, including staff in care homes, prisons and the community, as well as in GP surgeries, hospitals and for anyone delivering vaccinations. 
In a time when infection control is a serious concern, full-coverage plastic face shields have become commonplace. But they're not without their challenges.
Problems with Medical Face Shields
Prone to fogging and condensation that impairs visibility, these shields can prove problematic for staff working hard at the front-line of service delivery. And when you're responsible for the welfare of vulnerable patients, the last thing you need is an imperfect product.
Beyond that though, they're also largely non-recyclable, contributing significantly to the volume of single-use plastic waste in any health trust or facility.
And given that everyday plastic items, composed of similar materials, can take up to 500 years to degrade in the ocean, these masks are probably going nowhere for a very long time.
Stats on NHS PPE Usage
According to The Conversation one NHS trust in England released stark data  – 'Across four hospitals in the trust each day, 39,500 masks, 11,495 gloves, 1,501 gowns, 4,201 respirator masks, as well as more aprons and eye protectors are used, totalling 72,000 PPE items. There are 226 similar trusts in the UK, meaning 10 million or more PPE items are used each day, and most are single-use plastic.'
As we face enormous, and as yet unpredictable, challenges in and following a global pandemic, the prospect of yet another lingering side effect – this time environmental – cannot be appealing to anyone.
But there is good news.
How to Create an Environmentally Friendly NHS
Fully recyclable PPE
EnviraflexVIS is a fully recyclable PET film that has been developed specifically for the manufacture of medical face shields.
It is the first film with true anti-fog qualities that also meets the optical requirements set forth in EN167:2001.  This is a requirement for EN166 compliance on all visors and eyewear used within the NHS.
It delivers high light transmission and a distortion-free view, without die lines, for clear, uninterrupted vision.  The film itself has excellent process-ability, can be die or laser cut and is also cleanable using soft detergents or household glass cleaner.
What is PET?
PET stands for polyethylene terephthalate, which is a type of polyester. PET is the most widely recycled form of plastic worldwide and is used to make a wide range of packaging and containers such as food pots and bottles.
It is strong, transparent and thermally stable, and can be recycled numerous times. 
Safety without compromise
So with PET available, why are stuck in old ways of doing things?
It's a question still confounding researchers worldwide. Not least those from the Pew charitable trust and SYSTEMIQ, who indicated that nearly 80% of plastic pollution could be resolved by 2040 if we just used current technologies and knowledge.
So, the message is clear, while the safety of those putting themselves on the front-line is of the utmost importance – and we thank them for their enormous contribution – it's time for better choices behind the scenes. For all our sakes, now and into the future.
Find out more about Enviraflex's environmental commitment.
Contact Enviraflex about Recyclable PPE
Get in touch today with any questions about our recyclable PPE that could be the solution to an environmentally friendly NHS.